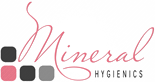 Our mission at Mineral Hygienics is to be the premier cosmetic manufacturer focusing on creating the highest performing products and doing everything possible to keep them as natural as possible. We know how to use natural ingredients to develop superior cosmetics that meet and exceed customer expectations. In order to accomplish this objective, Mineral Hygienics strives to build lasting relationships with our customers, suppliers and employees.
Superior Cosmetics: Superior Cosmetics is why we are in business. When Mineral Hygienics develops a product, there is both reason and logic in our formula. Every product has a purpose, and the reason for development is to be better than the competition. It is not our plan to release thousands of sub-par products, and saturate the market. Before our customers even use a product, we want them to feel comfort knowing that it was developed with care and reason, and after they use the product we want them to be so excited that they feel the need to share the excitement with others around them.
Lasting Relationships: We build lasting relationships on a solid foundation of ethics and good business practices. We want our relationships to grow strong. To achieve this we are personable, competent, moral, and flexible. We provide the personal touch…Come feel it.